CSIA Level 1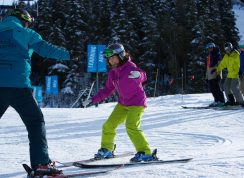 Over a three day course, candidates are assessed on their skiing and teaching abilities and need to meet the minimum standards in a number of criteria.
A successful Level 1 candidate will be able to show competent parallel skiing (based on the technique taught on the course) on easy terrain, be able to demonstrate beginner technique, such as a wedge, to their students while maintaining appropriate speed and turn shape.
To be successful in the teaching portion, candidates should always keep their students safe and engaged in the lesson. The skill development offered should reflect an observation in the students skiing. The candidate should be able to communicate effectively with their students and move their group through the terrain safely. (notice safety got a mention twice!)
To register you will need to contact our Guest Relations department after you are hired (1 800 766-0449). They can give you a staff discounted rate.
For available dates, see the Whistler Blackcomb website.
Choose the Teaching Children Module with your Level 1 course. It is a prerequisite for working at WB.

Have a look at the video below to get an idea of the level 1 standard of skiing. The first example would not meet the skiing standards as it is not completely parallel. The second example would be a strong pass and is a good example of intermediate parallel skiing. Pay attention to:
- The consistent speed and turn shape
- Balancing in the middle of the skis with bend in all joints.
- Linked skidded turns
- Legs are turning independently of the upper body.