Lift Loading, SS Trail Maps with Progression
Lift Loading Videos for Kids:

Lift Loading – https://vimeo.com/493526266/9e70283067
Lift Safety - https://vimeo.com/489170469/2190fb0272

Snow School Lift Loading COVID-19. Dec. 4 2020 – Updated Jan 8th 2021
Key Notes
Key Notes in PDF Pictures


Refer to the Snow School Safety Manual for all specifics related to age and ability

Children under 7 are to ride lifts with their instructor, a parent, or another employee.


Star Riders are snow school staff who will be lapping on

c

hairlifts in learning zones to help

5 and 6-year-old

children up the lifts

in group lessons

If in doubt,

default to the safest outcom

e; a

ssist and ride the lift with

a

guest who

has

never ridden a chair before, or a child

who

cannot safely put the bar down on their own

*

If there is a child that missed a load with their group, and there is no other employee to assist, then we will load the child with a willing responsible adult to maintain the child's safety on the

chair. *
Chairlifts
Ages 3 and 4
Lessons for

3 and

4-year-old

s

are 1 on 1 and should ride chair lifts as such

We are not

offering

3 and

4-year-old

s

nowboard

l

essons

this season

A

F

amily Private that has

3 and 4-year

old's

in the lesson must have a parent or guardian present for each child to assist in the child needs, including lunch, lift loading, and washroom breaks
Ages 5 and 6
Class Ratios: Whistler Kids 4:1 Private Ski 2:1 Private Snowboard 1:1
Instructors can take

2

children

with them, one on either side

Star Riders can take 2

children

with them, one on either side

A WB Employee

(not snow school)

can take 1

child

(E

x:

Patrol or Lift operator)

A

F

amily

P

rivate is available to have additional

c

hildren, however there must be an adult present for each additional child.

6 packs –

One instructor can take two

children - one

on either side
Ages 7 and 8
Class Ratios: Whistler Kids 6:1 Private Ski 6:1 Private Snowboard 4:1
Children will ride in pairs only when riding without an employee
Maintain

two

seats

distance between

children

when loading without an instructor

The smaller

ch

ild should load on the lift attendant side

Instructors can take

one

child

with them

Groups

are

permitted to ride th

e following

list of

c

hairlifts together

if there is not an available employee to assist, and the instructor deems the children competent to ride

together without an employee

.

(A

lways pair the youngest

or

smallest child with a bigger or older child when possible).
Whistler Mountain:
Emerald Olympic (single space between kids)
Fitzsimmons Garbanzo
Red - (bad weather days, wait for an employee)
Blackcomb Mountain:
Magic (single space between kids)
Jersey Cream Excelerator Catskinner
Crystal - (bad weather days, wait for an employee)
7th Heaven – only in good weather and supervisor's permission.
If they are able to ride

other lifts (according to the Safety Manual) not mentioned above,

they must ride with an employee.
Ages 9 and Older
Class Ratios: Whistler Kids 6:1 Privates 6:1
Kids should ride as pairs

on

chairs and the

instructor

rides alone or with a single fr

om

their group or

another

SS

group, 2 seats apart
Adult lessons
Employee must follow the general lift riding guidelines

and SOP's

(maintain 2 seats between

unrelated

parties

)

On Olympic and Magic chair, i

f

the instructor feels like they need to ride with a guest for safety reasons they need to be separated by one seat. This should only be done in extreme circumstances, for example, if it is the first time a client is riding the lift.
If a

Whistler

kids instructor needs help uploading their class,

it is expected that

the adult or private instructor

will help

the

W

histler

K

ids group, instead of

riding with

their

guest

s

.
T- Bars
Gondola Riding
Blackcomb Gondola:
Under age 7: 1 child and 1 employee

7 Years and Older: 2 children can ride together, or 1 child and 1 instructor
Employees can ride with 1 other employee
Village, Excalibur & Creekside Gondola:
Whistler Village, Blackcomb Excaliber and Creekside Gondola Pictures
7 Years and Older: 2 children can ride together

Employees must ride alone
C

hildren who

require assistance may ride kiddy corner to the instructor, to accommodate the child's wellbeing.

Child

private lessons

;

have parent ride

with their children

.
Peak to Peak:
4 singles can

ride

in the same cabin

,

o

ne in each corner, o

r

o

ne

family on one side, and 2 singles on the other
Children 7 & 8 years old on bad weather days should ride with an

instructor,

Star Rider

or an Employee

.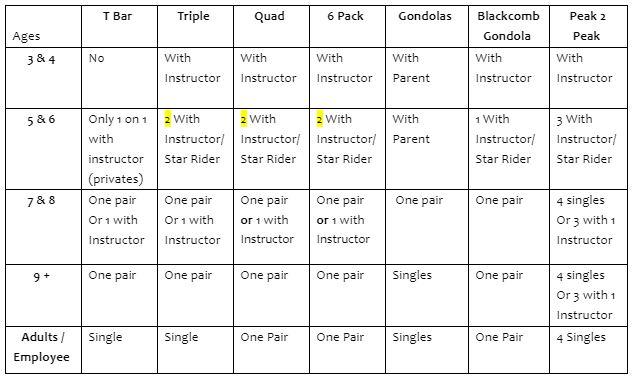 The Snow School Trail Maps:
Whistler Progression: Run List Progression Whistler Whistler Map: Trail Map Whistler 2020
Blackcomb Progression: Run List Progression Blackcomb Blackcomb Map: Trail Map Blackcomb 2020